Our modern, eco-friendly LED Lighting Towers combine the latest mobile lighting technology, with the numerous advantages that powerful LED lighting offers. A single tank of fuel can run a lighting tower for a lengthy 150 hours, whilst using an impressive 60% less fuel.
The LED lighting tower operates quietly and efficiently, with the lights providing 40% more light than a standard tower.  They are suitable for use in all situations and are widely utilised in construction, road works and events.
N.B. Our Towers generate 2000w of light compared to much of the opposition offering only 1000w.
Our LED Lighting Tower have the following specifications: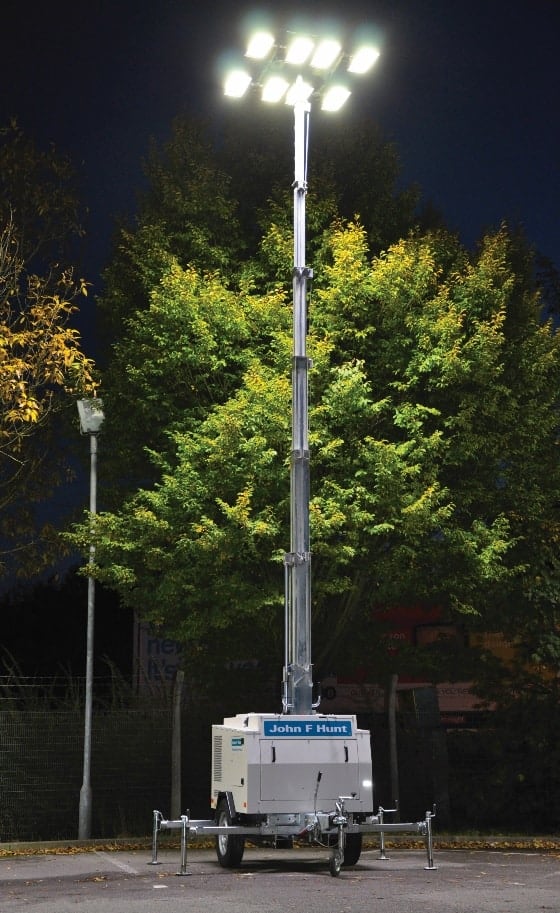 Eco-friendly: uses 60% less fuel
8 x 250w LED lamps
9m mast height and 358 degrees rotation
Hydraulic powered mast (rise/lower time 15 seconds)
Maximum run time: 150 hours (fuel consumption – 0.9 l/h)
Low noise level : 59dB(A) @ 7m
Kohler engine LDW702
Power outlet socket 1 x 220v single phase 32 Amp and 16 Amp
Road lights and reflectors are fitted as a standard
Hydraulic system uses bio degradable oil
1500rpm water cooled diesel engine
Alternator output – 5 kVA
Dimension:
Closed dimension: 245 x 130 x 230cm
Fully deployed: 245 x 280 x 920cm
Weight: 1030kg (with fuel 1138kg)
Fuel tank capacity: 140 L